Interview on Voyage LA
Mar 08, 2019
I was interviewed by Voyage LA Magazine and here is most of it: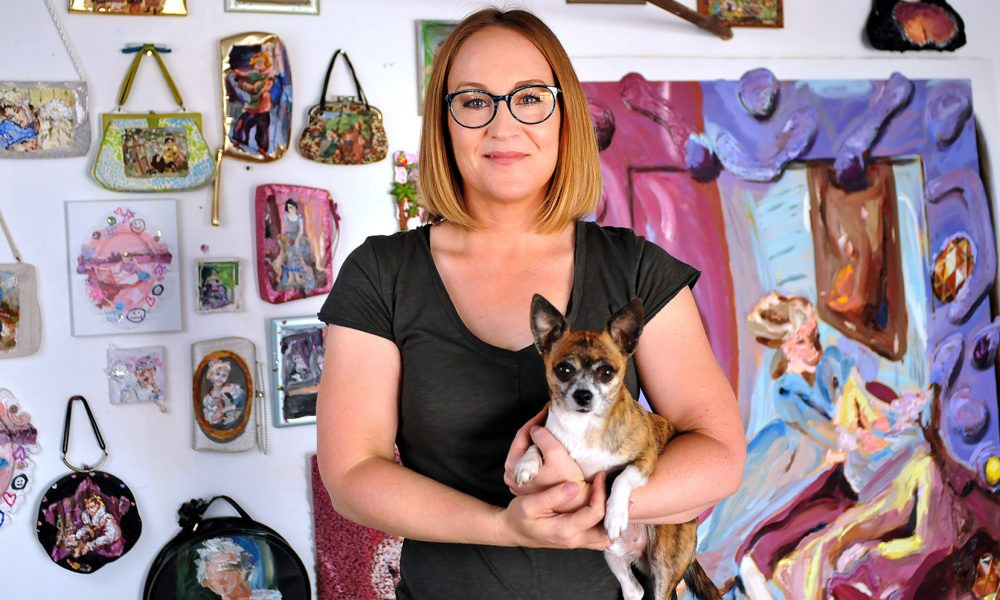 Today we'd like to introduce you to Annelie McKenzie.
Annelie, let's start with your story. We'd love to hear how you got started and how the journey has been so far.
I'm an artist coming from an '80s latchkey childhood, Canadian junk food delicacies, Baptist Bible studies, cowgirls, band camp, and snow days.
Art always felt a bit taboo, something I did alone in the evenings instead of homework. I didn't take any formal art classes until college, which was acceptable only because I planned on becoming an art teacher.
It was at the University of Calgary (in Alberta, Canada) that it dawned on me that a woman could simply be an artist. When I saw the paintings of Sylvat Aziz in the Nickle Arts Museum, I felt deeply moved by their powerful narrative, symbolism, mystery, and the feeling that there was something distinctly feminine about the work. It was the first time I truly looked at paintings with a particular awareness that the artist was female. In other ways, I was very different from the artist because she is a Middle Eastern Muslim immigrant, and I was enthralled with the idea that the contexts of both the artist and the viewer matter, and that we could use the art itself as a meeting place. I aspired to make work like this.
From there, I just really wanted to be an artist. But teaching was a very practical way to support my art habit, and it allowed me to move to the United States. I made art during evenings, weekends, and summers.
After several years, I was laid off during the recession and went back to school to get my MFA at the California State University, Long Beach. Since graduating I've been able to be a full-time artist. For a while, I was represented by a gallery but have learned that this is a really tough road. I'm currently "self-representing," which means I make my own sales through my website (http://www.anneliemckenzie.art), social media, and solo project shows with galleries.
Great, so let's dig a little deeper into the story – has it been an easy path overall and if not, what were the challenges you've had to overcome?

When I was in my 20s, I decided to move from Calgary to a larger art center. Looking back, I realize that Calgary already had a thriving contemporary art scene, but I guess I wanted to explore. A job opportunity came up in Los Angeles and I was hired as a Special Education teacher. I did everything I could to save money for the move as I waited for my visa, including moving back in with my parents. I don't think anyone quite believed I could accomplish such a feat. I was doing it alone and knew no one at all in LA. People seemed to want to warn me about the terrors to be found there.
When I finally booked a U-Haul, my father sat me down for a talk.
"Are you really moving to LA to do your art?" he asked.
Yes.
"Well, I have to tell you that you will fail because your art goes against God's will."
I was pretty crushed. He believed this because at the time my art featured nude figures. It didn't help that one of the conservative magazines he subscribed to had recently published a human interest story on me, which described my process in a very sexualized and incorrect way.
At the moment, I just said, "OK Dad," and probably added a sarcastic "thanks a lot." I immediately fantasized about telling this story to Barbara Walters or Oprah Winfrey when I "made it" as an artist. I would cry and everyone would know that he was a monster and I was so strong and brave. Ha!
Well, he's not a monster — but I am strong and brave! I know now that this was just my Dad being my Dad, expressing his concern through the filter of his world view, and not wishing for me to fail. He absolutely and sincerely believed that nudity in art was an ungodly thing, a path to certain doom.
At the time, it was a huge struggle for me to deal with what I perceived to be my family's lack of support. They had love and concern for me but didn't "believe in my art."
But sometimes, your biggest struggles turn into your biggest strengths. It's more important for me to know what I believe about my art. If I had been grounded in my own beliefs that:
Nudity in art is perfectly fine.
I'll most likely experience many successes and failures in life, it's normal.
My father loves me.
Then, his words remain simply that: his words. It wasn't the most encouraging thing a parent could say at that moment, but we worked through it.
I continued with my move and it was the hardest thing I've ever done and a huge accomplishment. Los Angeles turned out to be a really great place to make art amongst a very supportive art community.
As an artist, it's easy to fall into the thought-trap that external things will validate me: an MFA, gallery representation, sales, reviews, etc. But it's best to let all of that go, take back the power I have to make myself feel validated, and make whatever I want. Create the life I want.
My advice to any artist is to believe in yourself. This takes work — it'll always be an ongoing process. You don't need to convince yourself that you are the next Yayoi Kusama. (But hey, you might be!) Just know that your reasons for making art matter, and other people's opinions don't change who you are.
One more thing: read Big Magic by Elizabeth Gilbert. It is full of great recommendations about staying dedicated to your art and whether you should get an MFA. (The short answer is probably not!)
Please tell us more about your work, what you are currently focused on and most proud of.
I'm probably best known for my small oil paintings on decorative objects such as purses and frames.
The word "leftovers" could be used to describe both the subject matter and technique of my painting. I seek out artists who have been left out of the Western Art Historical Canon, mostly women, then make loose copies or interpretations of their work using bits of paint leftover on my palette. Girly scraps and craft materials such as rhinestones or ribbons are encrusted into the paint.
I'm working with the idea of the feminine as both subject and material. Can a painting be feminine? I'm always asking that question. I do think we project gender onto paintings and art. The masculine remains "invisible" and "universal" while the feminine… well, I think it can elicit both attraction and repulsion from viewers.
My work is easily misunderstood because I work with this concept of the "feminine." Unfortunately, there are many negative connotations, like: weak, frivolous, silly, unimportant, childish, powerless, diminutive, and decorative. So, in a way, these adjectives can be applied to my paintings. In response, I'm not entirely rejecting nor celebrating the feminine construct, but maybe doing both. My intention is to make a painting that sits in a place of discomfort while at the same time taking some guilty pleasure in it.
The reason I appropriate subject matter from women artists in history is that it foregrounds work made by women: both myself and the historical artist referenced. It creates a conversation between artists across time periods and an argument between the idea of a female painter and a feminine painting.
I think when people collect my work, they're getting a reminder on the wall that honors the feminine inside of all of us. It's not something that needs to be overcome, controlled, or held back. It's a vulnerable, colorful, sparkling piece of art that raises its hand to say, "I'm here too!"